Openings At Alexandria Branch
HVAC SHEETMETAL INSTALLERS
Mission Mechanical Inc. is on a "MISSION" to provide a workforce that approaches all aspects of their work with a positive attitude and work ethic respected by our customers and rewarded by the company. It's in our name; we are on a MISSION to change and improve the way mechanical construction services are provided to owners, customers, fellow contractors, architects, and engineers. We are committed to providing superior services and build solid customer and employee relationships based on honesty, integrity, and hard work. Will you join us on this "MISSION"?
We are growing our local Alexandria branch and are in need of HVAC Sheet Metal Installers to join us on this "MISSION". We are currently looking for installers of all levels (entry, journeymen, and foremen status).
Requirements
•  Valid driver's license with a clean driving record
•  Power tools are provided by Mission Mechanical Inc.
•  Excellent communication skills and ability to follow directions
•  Able to read and understand plans and shop drawings
•  Able to lead and instruct apprentices (Journeymen & Foremen Position)
•  Able to field measure (Journeymen & Foremen Position)
•  Able to work and coordinate with other trades, while planning ahead (Foremen Position)
Benefits
•  Bi-Weekly top tier pay and benefits
   ➝  Medical
   ➝  FSA
   ➝  Dental
   ➝  Vision
   ➝  401K
•  Short-term/Long-term disability
•  Company vehicle (Foremen Position)
•  Phone reimbursement (Foremen Position)
•  Company provided uniforms
•  Paid holidays
•  Paid personal time off
Now is the time to join us on this "MISSION" and become part of the Mission Mechanical Inc. family! Stop by our Alexandria branch or submit your resume via email today!
Master Plumber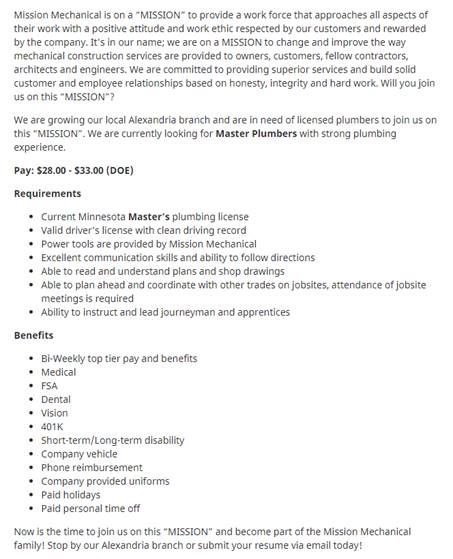 Journeyman Plumber