At Mission Mechanical Inc. we maintain the highest installation and service standards and employ only the best technicians that are EPA licensed and attend periodic training courses so they are on top of all advances, technology and code as it changes.
We are dedicated to providing our customers with the highest quality service, parts and equipment possible at reasonable prices.
We've been proudly serving our local community with top of the line products, service, and maintenance for years and hope to do the same for you today!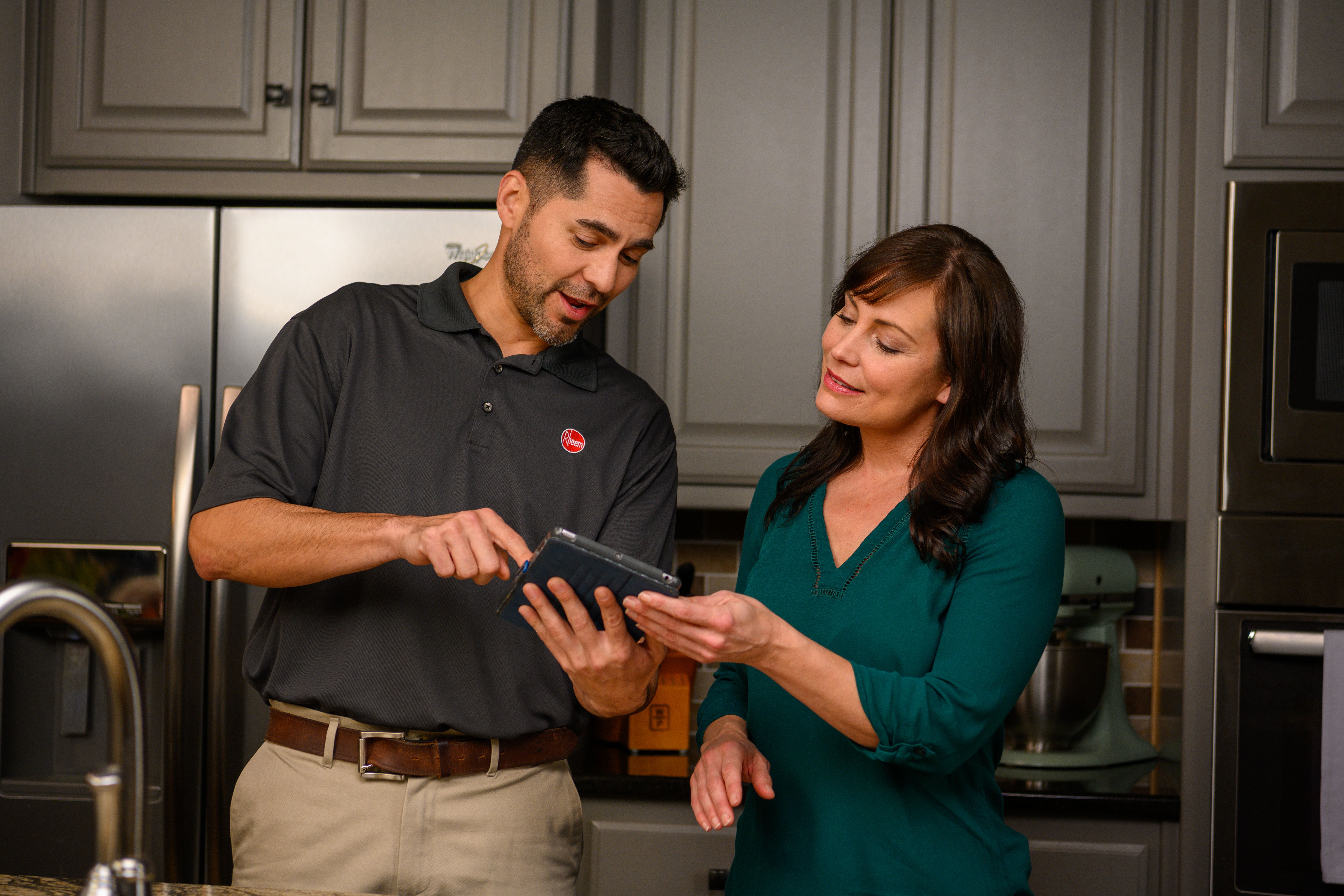 Mission Leaders
TOM PETERSEN
Explain your history in your trade
Tom Petersen has been in the HVAC trade for over 20 years. After starting as an apprentice in the HVAC industry he rapidly advanced to a Foreman position after 3 years of installing HVAC systems. He then spent 11 years perfecting his skills as a Sheetmetal Foreman by coordinating commercial job sites and training and teaching apprentices. He then moved into mechanical design and sales, which he continues to do today.
What are your responsibilities?
As the CEO, Tom works to keep our West Fargo and Alexandria locations running smoothly, working closely with our general managers, Brady Opheim and Nick Shaw. Tom is also the visionary for Mission Mechanical. While designing and selling mechanical systems, he forms strong bonds with clients, and loves to turn customers into friends. He also maintains the culture of our company, and works hard to put smiles on the faces of our Mission family.
What has been your experience at Mission Mechanical?
Tom has enjoyed making the Mission Mechanical dream come to life. Each day along with his partners, he works hard on building and maintaining a sanctuary for skilled tradesmen. Watching Mission Mechanical grow from just a few employees, to one of the premier mechanical companies in the region, with now two locations, has been his greatest joy.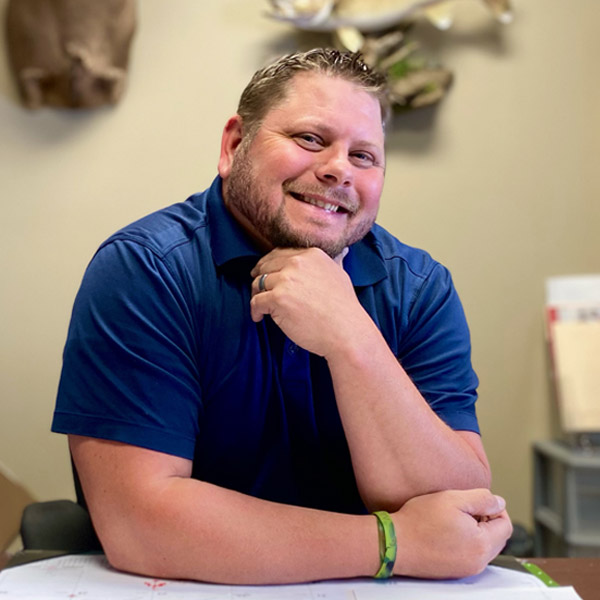 NICK SHAW
Alexandria General Manager
Explain your history in your trade
Nick has been in the Plumbing, Heating & HVAC trade for 25 years. He started plumbing & heating while he was still in his senior year of high school, working once school was finished. He worked his way up from apprentice to journeyman then to a master plumber. Through these stages he progressed from foreman to project manager/estimator eventually a vice president.
What are your responsibilities?
Nick's responsibilities at Mission are day to day operations of the Alexandria branch, designing and estimating projects. Most importantly, he creates and maintains a great work environment and culture through the Mission Mechanical team.
What has been your experience at Mission Mechanical?
Nick enjoys creating long lasting relationships with customers and co-workers at work and personally, through care, quality and responsibility. He always wanted to be part of a company that works hard, cares and understands. Mission Mechanical encompasses all of those qualities.
SCOTT MAHAR
Customer/Client Services, Estimation, Design, and Project Management
Explain your history in your trade
Scott has been in the HVAC business for nearly 40 years. Before the opening of Mission Mechanical Scott was a large commercial foreman for over 15 years. From there Scott moved into a management role for 7 years in which he managed the total operation of all commercial projects and over one hundred employees. Scott then transferred to an engineering firm as the Construction Administration Supervisor where he was responsible for shop drawing review, inspecting mechanical system installations to ensure quality workmanship, light commissioning, and enforcing the installing contractor's contractual obligations. He was also responsible for the resolution of project/contractor design/construction issues.
What are your responsibilities?
Scott's responsibilities at Mission Mechanical include implementing effective growth strategies, development of business/client relationships, monitoring quality control, design build performance, project management, and design build estimation. Scott also keeps an up to date and efficient fabrication/production shop by constantly updating equipment and managing the material purchases in our ever-changing market.
What has been your experience at Mission Mechanical?
Scott values the companies' clients' time and investment and ensures that deadlines are met without compromising safety or quality. Scott also believes in the core values of the company and the hiring of individuals whose values match what the company was built on. Scott credits his faith for the quality of people that work at Mission Mechanical, and the reason Mission Mechanical exists. Thanks to our whole team!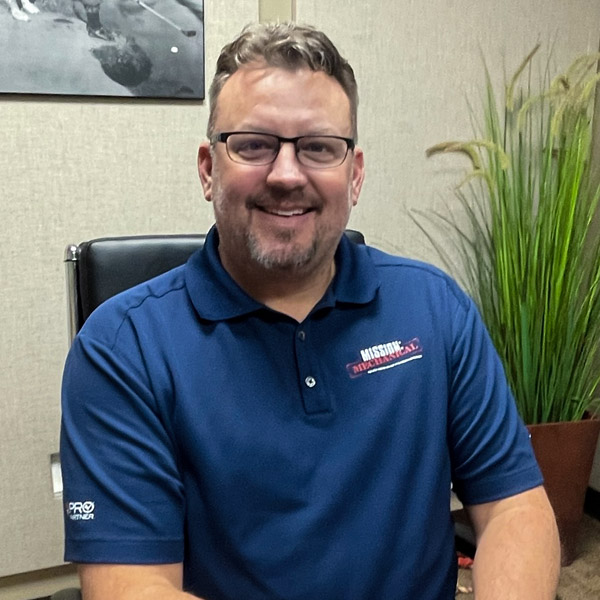 BRADY OPHEIM
West Fargo General Manager
Explain your history in your trade
Brady has been in the mechanical trade for 27 years. He has experience as a Foreman, Estimator, Project Manager, Service Manager and Design Build Coordinator.
What are your responsibilities?
Brady is responsible for the daily operations of the West Fargo Branch, including management of projects, service and support for all markets. He understands what it takes to successfully coordinate and manage a project. He is committed to providing a quality work environment with a proactive safety approach.
What has been your experience at Mission Mechanical?
Brady's best experience has been all the experiences, good and bad, throughout this journey of starting a new commercial mechanical contracting company. We've had so many positive experiences with employees, many of which have been with us from the beginning. Being able to mold our company into what it is today has been one of the most rewarding things for me.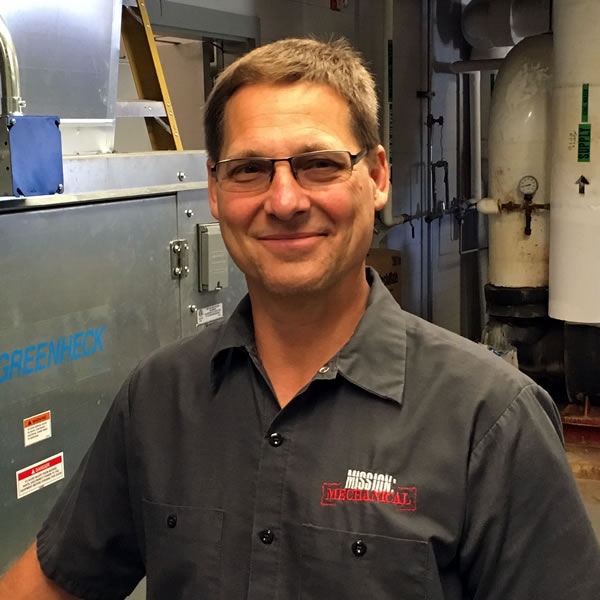 LUKE DEWEY
HVAC and Plumbing Project Manager
Explain your history in your trade
Luke has been in the Plumbing & Heating trade for over 35 years, working as a Field Foreman, Project Manager, and Estimator. He has worked on many projects with multi-million-dollar budgets. He has installed mechanical systems and equipment for medical centers, schools, nursing homes, restaurants, athletic facilities, etc.
What are your responsibilities?
Luke primarily works on plumbing project estimating and project management. He assists clients on designing plumbing and heating systems for new or existing buildings. His goal is to give customers the best system for their situation. Luke also oversees the training of our plumbing & heating employees to make sure they have the knowledge to do their job properly.
What has been your experience at Mission Mechanical?
Throughout the years, Luke has enjoyed working with clients bring their ideas from discussion to the reality. Helping to get employees the tools and education they need to succeed then, watching them realize their dreams and become the best person they can be.